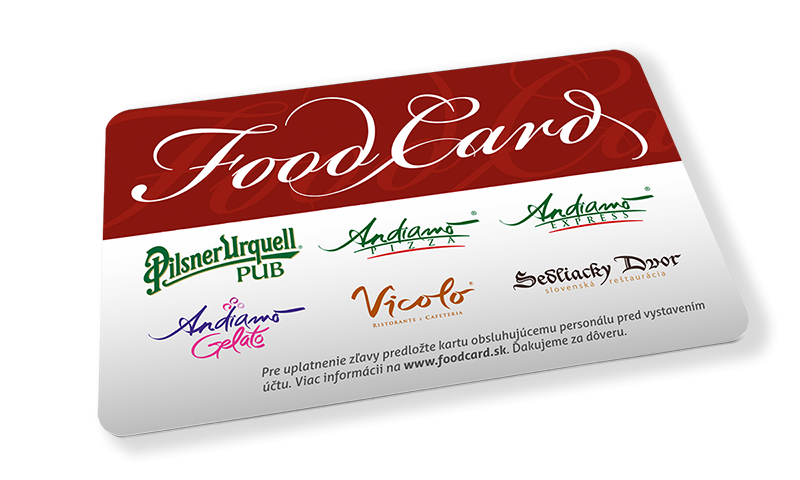 BECOME A FOOD CARD HOLDER AND ENJOY DISCOUNTS FOR MEALS AND DRINKS IN YOUR FAVOURITE RESTAURANT.
The Food Card is a loyalty system connecting our Andiamo Pizza, Pilsner Urquell Pub, Andiamo Express, Sedliacky dvor and Andiamo Gelato operations located in the Aupark Shopping Centre in Košice, also Vicolo and Sedliacky dvor restaurants in the Optima Shopping Centre in Košice, as well as Andiamo Pizza and Pilsner Urquell Pub in the ZOC Max Shopping Centre in Prešov.
Become a member of this unique Food Card loyalty scheme, get a loyalty card, and immediately enjoy discounts for meals and drinks in your favourite restaurant.
Registration is easy and for free!
How can you get a Food Card?
Fill out and tear off the registration form from the flyer that you can get in any of the partner restaurants and return it to the operating personnel. You will get a Food Card immediately and you can apply a discount to your whole bill when consuming in any of the partner restaurants.
| | | | | |
| --- | --- | --- | --- | --- |
| | | | | |
|   |   |   |   |   |
| FIRST ADVANTAGE | SECOND ADVANTAGE | THIRD ADVANTAGE | FOURTH ADVANTAGE | FIFTH ADVANTAGE |
|   |   |   |   |   |
| Registration in loyalty system Food Card is simple, quick, and for free. It is only needed to complete a registration form in your favourite partner restaurant, tear it off and give to the operating personnel. | You do not have to wait long for the Food Card loyalty card! You will get it immediately after registration from operating personnel. | Immediately after registration, you can use the main benefit of loyalty card Food Card in the way of discount of the total bill in all partner restaurants. | Loyalty card Food Card is valid immediately in 14 partner restaurants.  | Become a holder of Food Card and get regularly recent information on offers in your favourite restaurants.  |